A themed book tour through
Prism Book Tours
.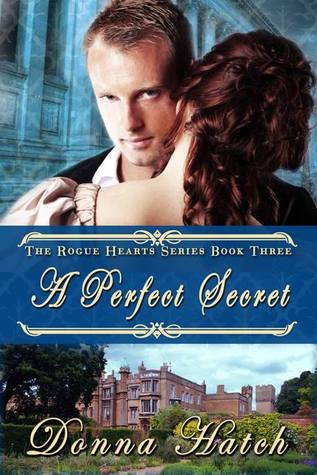 A Perfect Secret
(Rogue Hearts #3)
by Donna Hatch
Adult Historical Romance
Paperback, 348 Pages
December 14 2013

Desperate to protect her father from trial and death, Genevieve breaks off her engagement with Christian Amesbury and marries a blackmailer. After a year of marriage, she flees her husband's violent domination only to have fate bring her back to Christian. Just when she thinks she's started a new life of safety and solitude, her husband tracks her down, stalks her, and threatens everyone she loves.
Still brokenhearted over Genevieve's betrayal a year ago, Christian can't believe she's come back into his life–and worse, that she's done it on the anniversary of his brother's death, a death that haunts him. Though tempted to throw her back into the river where he found her, he can't leave her at the mercy of the terrifying man she married.
When her husband torments Genevieve and puts his family in danger, Christian will do anything to protect those he loves…anything except give Genevieve another chance to break his heart.
About Donna Hatch
My passion for writing began at the tender age of 8 and I've been hooked ever since. Of course, I also wanted to be an actress and a ballerina, but one out of three isn't bad, right?
In between caring for six children, (7 counting my husband), my day job, my free lance editing and copy writing, and my many volunteer positions, I manage to carve out time to indulge in my writing obsession. After all, it IS an obsession. My family is more patient and supportive than I deserve.
Author Interview
Please tell us a little bit about you.
I hear voices. And I talk to them. Oh, you mean something not creepy? Well, let's see. I'm an incurable romantic and a hopeless optimist. I also use sarcasm as a part of my normal speech, which, really, seems contradictory, huh? As far as not weird stuff, I live in the southwestern part of Arizona with my husband of over twenty years. I have six children, five of whom still live at home. I love to sing and dance and I play the harp, and I love long walks on the beach and kissing in the rain. (Too bad I don't live near the beach and it seldom rains in the desert!)
Why did you choose to pursue the art of writing?
That's like asking a fish why he swims. I write because I must…because it's some kind of sickness. Or maybe it's just the only way to give an outlet to the voices in my head. It's also a great escape from life…but then, reading does that for me too. Yet, by writing, I can make things turn out the way I want them to, and not be at the mercy of an author. Does that make me a control freak, or just neurotic? But the real reason why I write is this: I can't NOT write, at least, not for very long.
What was the inspiration for A Perfect Secret?
I'm not sure where it came from. My muse sorta whispers in my ear until I start turning it over in my mind and it eventually turns into a plot. For A Perfect Secret, I had the idea of a girl being stalked by some creepy man, and him striking out at those closest to her. Then I saw the movie Sleeping with the Enemy with Julia Roberts. It was then that I knew the man stalking Genevieve was her crazy, obsessive husband.
What kept you going throughout the writing process?
Discouragement is part of the process. Any author has to develop a pretty thick skin before he or she can expect to get published. It's a brutal world, and between contest judges, critique partners or groups, rejection letters, and book critics and reviews, there are a lot of conflicting—and often negative—opinions. It's okay to let yourself grieve when the inevitable negative reaction happens, and then you just gotta get up and get back into the game. I find that crying, raving to my husband and my writer friends, and eating chocolate helps 😉 But it all boils down to one simple fact: I just do. I keep going because I must. I have stories in my head that demand to be told. So I tell them. Or maybe I keep going because I'm crazy.
Is there a singular character that really touched your heart and why?
It's really hard to pick a favorite character in any of my books. Christian feels so real to me because he was in the first two books, so I've known him longer. Genevieve was the new kid to the block, but I really spent a lot of time developing her personality and her backstory so she's become a dear friend to me. Of course, I'm desperately in love with Christian, so I guess I'd have to choose a man I love over a dear friend, right? But honestly, I delved so deeply into Christian's backstory to figure out what makes him tick, and I uncovered so much heartache that I couldn't rest until I helped him find peace and acceptance and love with a girl worthy of him.
Can we expect to hear more from these characters in the near future?
There are four brothers in the Amesbury family, and three of them have stories already written so I have one more to go. I've actually started the fourth brother's story and he's really a tough nut. I still don't know most of his secrets. He may or may not tell me very many of them by the end of the story. There are also two sisters in the family whose stories I have loosely planned.
How has this story touched your life?
Every story touches my life in some way, even if all it does is remind me that everyone deserves to be loved, and somehow, somewhere, a happily ever after is attainable, if people have the courage to open up their hearts and reach out to others. Offering love unconditionally can be scary and leave us vulnerable, but it's worth it.
I admit, I've been out of the dating scene for (ahem) a few years now. Okay, over twenty. But from what my single friends tell me, not much has changed since I was dated. Basically a man asks out a woman, (or if she's braver than I ever was, she asks him out). They might meet online, or be introduced by a friend, but eventually they end up on that first date. It might be dinner or drinks or just coffee. It might involve a movie or miniature golf or a museum. It might even occasionally include another couple but it never involves parents or chaperones, and no one thinks anything of an adult man and a woman being alone together in a car or a house.
Dating in Regency England was very different. For one thing, it was called courting or wooing. But most importantly, a young lady of good breeding who wished to keep her reputation pristine so she would be a candidate for marriage never, ever put herself alone with a man. (The double standard is, of course, that the man could have a very sullied reputation and still be considered a good match if he were wealthy and well-connected enough, but that's another matter.) Therefore, courting was a very public affair.
First they'd have to be introduced by a mutual friend before conversing. They often met at balls which were THE places to meet those of similar social backgrounds, but they might also meet at a dinner party, soiree, musicale, or even the opera or the theater.
If the man wished to get better acquainted with the lady he'd met, he'd send her flowers the next day, and later pay a visit upon the family during their "at home" hours where her mother or aunt or other chaperone would be present. He might take her for a stroll in one of the walking parks, or take her riding, either horseback or in an open carriage–open being the operative word since riding in a closed carriage could ruin her reputation as quickly as being alone in a house with a man. During these public outings, a chaperone may or may not be close at hand.
Courting could be short or take place over a long period of time. If she refused to dance with any other man but him, she basically announced to the world that she was unofficially engaged. If she danced with him more than twice in one night, everyone assumed she was either engaged to him or was "fast," a terrible label for a proper young lady. If he spent a lot of time with her to the  point where people began to notice how much they were together, public opinion placed them as engaged. If he failed to make an offer of marriage for her, people said he had failed to come up to scratch and shook their heads and wondered if she were unsuitable or if he were. Either way, the couple's reputations suffered.
Such courting practices may sound rigid and even sterile to the modern-day woman, but I think it leaves so much open. For one thing, they relied on witty conversation rather than getting physical to get to know each other. And since the courting practices were pretty predictable, a man had to use creativity to impress a lady.
Once he felt secure she returned his affections, the gentleman would make an appointment with the girl's father and formally ask for her hand in marriage. His income would be scrutinized and they would draw up a prenuptial agreement called a marriage settlement which included her pin money, dress allowance, jointure, and other ways he'd provide for her, as well as what dowry would go to the man. With all that settled, the father would break the news to the girl and the wedding preparations would commence.
My job as Regency romance author is to keep in mind these social customs known as 'manners and mores' and yet find unique ways for my hero and heroine to meet and fall in love. It's fun to create a unique twist on acceptable courting, throwing in lots of obstacles in the way of their happily ever after, and revealing the final, happy, triumphant ending.  That doesn't make me a hopeless romantic, it makes me a hopeful romantic. My tagline is 'Believe in happily ever after' because I do.
Tour-Wide Giveaway
– Grand Prize: $20 Amazon gift card and an ebook (INT) or print copy (US Only) of A Perfect Secret OR The Stranger She Married (winner's choice)
– 5 ebooks of A Perfect Secret
– Open Internationally
– Ends July 20th
Follow the Tour:
6/30 – Launch
7/1
7/2
A Thousand Words A Million Books
7/3
7/4
Angels With Attitude Book Reviews
7/6
My Love for Reading Keeps Growing
7/7
I Love to Read and Review Books 🙂
7/8
7/9
7/10
7/11
Letters from Annie Douglass Lima
7/13 – Grand Finale