A themed book tour through Prism Book Tours.
The Cinderella Theorem
(The Lily Sparrow Chronicles #1)
by Kristee Ravan
YA Urban Fantasy
Paperback, 367 pages
March 17th 2014
Fairy tales are naturally non-mathematical. That is a fact, and fifteen-year-old Lily Sparrow loves factual, mathematical logic. So when her mother confesses that Lily's deceased father is (a) not dead, (b) coming to dinner, and (c) the ruler of a fairy tale kingdom accessible through the upstairs bathtub, Lily clings to her math to help her make sense of this new double life (1 life in the real world + 1 secret life in the fairy tale world = a double life).
Even though it's not mathematical, Lily finds herself being pulled into a mystery involving an unhappy Cinderella, a greasy sycophant called Levi, and a slew of vanishing fairy tale characters. Racing against the clock, with a sound mathematical plan, Lily attempts to save her fairy tale friends while proving that normality = happiness.
Amazon
Calling for Reviewers!
We're looking for reviewers! You don't need a blog to sign up, but you do need to at least post a review on Amazon. Other sites (blog, Goodreads, etc.) are also appreciated. Reviews must be completed by the end of November. To sign up, please fill out this form.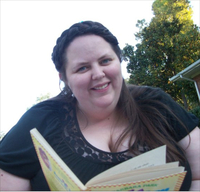 Kristee Ravan lives in Oklahoma with her husband, daughter, and pet fish, Val (short for Valentine). She wanted to be many things as she grew up including a general, an artist, and an architect. But she never bothered to say, "I want to be a writer when I grow up." She was always writing stories and thought of herself as a writer anyway. She sent her first story to a publisher in the sixth grade. (It was rejected – in a nice way.) When she is not making up stories in her head, she enjoys reading, juggling, green smoothies, playing dollhouse with her daughter, and hearing from her fans. You can contact Kristee at the facebook page for her Lily Sparrow books: The Lily Sparrow Chronicles.
Website – Goodreads – Facebook – Amazon
Author Interview
Please tell us a little bit about you.
I'd rather read than go shopping (or a lot of things). I don't like spicy food. I get to eat lunch with my husband and daughter every day. I like to watch an episode of The Middle before I go to bed. I can juggle, speak Spanish, and crochet. I lived for a year in the jungle of Bolivia and never saw a snake. (I did see a lot of pigs, though.) I like schedules, order, and routine (and yes, I would be happy to do the same thing every day). But above all, I try to live my life in a way that would please God.
What was the inspiration for The Cinderella Theorem?
On my recommendation, my sister stayed up all night reading Ella Enchanted by Gail Carson Levine. (I recommended that she read it, not that she stay up all night.) The next morning, at breakfast she said, "You should write a book like that. Something with Cinderella." My sister loves Cinderella.
So the idea of a Cinderella book was turning around in my head.
A few weeks after that, my college roommate confused two really well-known fairy tales in a casual conversation. My roommate also happened to be a math major.
Then the story stared clicking. What if someone who was clueless about fairy tales and loved order and logic found herself the future ruler of a magical (illogical) fairy tale kingdom?
What kept you going through the writing process?
People who wanted to know what happened! My friends who had read part of the story kept me going. And once my husband read it, I had a constant push from him to get the story finished, to get it edited, to get it published. In the final months of the publication process, we announced the book on Facebook and my friends were very excited. I remember thinking, "Well, I really have to publish this now." The publication date was no longer just something we talked about in our family—it was real.
Is there a singular character that really touched your heart and why?
                Lily has to make a couple of choices to be brave in the story. One of those is when she decides that she'd rather face facts and get to know her (previously believed dead) father than hold on to the nice, neat "story" of what she believed happened. I'm not always best at making hard choices, or being willing to do what is hard, so that aspect of Lily inspired me.
Can we expect to hear more from these characters in the near future?
                Yes! I'm hard at work on a sequel called Calculating Christmas.
How has this story touched your life?
                I had some real doubts about whether or not I should publish it, because it's easier to just stay the person who says, "Oh, yeah, I'm working on a book that I'm going to publish one day." When you're given your "one day" opportunity, it takes courage to take that risk. That is the biggest way The Cinderella Theorem touched me; it helped me see that I could take the risks to make my dreams come true.
Tour-Wide Giveaway
5 copies of The Cinderella Theorem (print for US winners, ebook for international winners)
Ends August 31st
a Rafflecopter giveaway
Follow the tour!
August Dates:
11 – Launch
12
13
14
15
17
Letters from Annie (Douglass) Lima
18
The Crazy Antics of My Creative Mind
19
20
21
22
24 – Grand Finale