by Anna Adams, Anna J. Stewart, & Melinda Curtis
Clean Contemporary Romance
Paperback & Ebook, 202 pages
November 1st 2014 by Harlequin Heartwarming
Discover the magic of Christmas Town, Maine!
Three lonely strangers come to Christmas Town, Maine, and find love with three Banning siblings in the town that celebrates the holidays by decorating its square with lights and ribbons and a holiday pageant on Christmas Eve. Tradition has it that a kiss beneath the mistletoe that night means marriage for the couple in the new year.
The Christmas Gift by Anna Adams:
Jack Banning promised to support the mother of his unborn child… But she doesn't need money, she only needs him.
The Christmas Wish by Anna J. Stewart:
Callie Banning's student has declared war on Christmas, so it's up to her to help the little girl—and her widowed father—believe again.
The Christmas Date by Melinda Curtis:
Gina Vernay is about to meet her online mystery date…and she's in for the surprise of a lifetime!
About the Authors
Anna Adams wrote her first romance in wet sand. The Atlantic Ocean washed it away, but Anna kept going. Her stories are of love, like the proverbial stone in a lake, making ripples that spread and contract and involve. From Iceland to Hawaii, and points in between, Anna and her own hero share with children and family and friends who've become family. All this living and loving gives Anna plenty of fodder for stories of love set in real life. Come along and live them with her!
Anna J. Stewart can't remember a time she didn't have a book in her hand or a story in her head and credits her mother never saying no to a book for turning her into a writer. Anna lives in Northern California with an overly attentive cat named Snickers and is happiest when setting her heroes and heroines on their road to happily ever after amidst family, fun and laughter.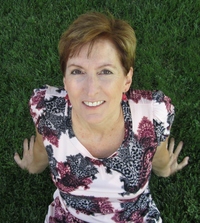 Melinda Curtis grew up on an isolated sheep ranch, where mountain lions had been seen and yet she roamed unaccompanied. Being a rather optimistic, clueless of danger, sort she took to playing "what if" games that led her to become an author. She spends days trying to figure out new ways to say "He made her heart pound." That might sound boring, but the challenge keeps her mentally ahead of her 3 kids and college sweetheart husband.
Guest Post
Everyone who knows me knows I'm a movie and TV freak. I watch so many shows I can barely keep track and while I don't go to the movies as often as I used to (or like–have you seen ticket prices?!), I have my "go-to" films when the time comes. So it's no surprise that whenever I start writing a new story, I get instant images in my head as to who I'd cast as my characters. Normally I don't share them (except on Pinterest for anyone who's interested). I don't want readers going into the story with a preconceived notion as to what the characters should look like. But the opportunity to "cast" this story is too good to pass up. Besides, who doesn't like looking at beautiful people, right?
For The Christmas Wish, my novella included in the CHRISTMAS, ACTUALLY anthology, the name of my hero, Dean Galloway, may have been inspired by a certain Dean on TV (ahem, SUPERNATURAL), the actual look of him has a bit of a tweak.
There are some actors who just "hit" from the second I lay eyes on them. When looking for images of my Dean, I did not have to look much further than Chris Hemsworth. Okay, I rarely look past Chris when it comes to seeing the heroes in my books; something I'm going to have to move past, I'm sure. But look at him–he's so dreamy, but there's an intensity behind those eyes, a dedication to family, to friends, to honesty that really spoke to me when I imagined Dean. First and foremost, Dean is about his daughter; what makes her happy, making sure she has everything she needs. Of course it helps knowing that Chris, in real life, is so in love with his wife and kids that it really does make you believe in happily ever after. See why he pops up a lot in my head?
Casting my heroines has always been problematic for me. Typically, I use another medium for inspiration (I'm a doll collector), but when I saw this picture of Nina Dobrev (Vampire Diaries), I knew that was Callie. There's a flirtatiousness about her along with a self-assuredness that I know would appeal to Dean. Callie is not a waif, not a wall flower. She has a strong personality with a few faults that frustrate Dean to no end. Callie is also a character who, like a lot of women including myself, overextends herself and worries about disappointing anyone. She will always stand up for her family, do what's right (even if it's to her own detriment) and tends to put everyone before herself. It will take a strong man to get her to see the effect it's having on her life, but I think Dean (and Chris) are up to the challenge.
I'd love to hear what you think? If you've read a Christmas Wish, who did you see? Better yet, who would you cast as Eliza? Lots of precocious little kids in Hollywood these days (and in the past)…let's complete the cast!
– Gift Card Prize Pack: $20 Amazon gift card and ebook of Christmas, Actually (open
internationally)
– US Prize Pack: Paperback of Christmas, Actually and three Christmas ornaments
(US only)
– 3 ebooks of Christmas, Actually (open internationally)
 Come follow the tour!